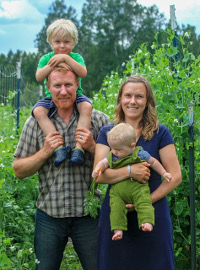 About the Farm
We sell a wide variety of organically grown vegetables mostly directly to our customers in the Northwoods area.
We've been in operation since 2010 and we
are proud to call the Northwoods home.




What we grow


We plant a wide variety of vegetables to keep you and your families diet interesting, diverse and healthy with a taste and freshness we trust you'll find parallel to none.



How to buy


Residents and visitors to the Northwoods can get our produce:

Our farming belief


We believe in a farm that serves our local community in supplying sustainably grown fruits and vegetables using ecologically sound principles. By reducing toxins going into our bodies and our environment we're striving for a healthier, happier place to live.




Who our customers are



You have a care for the environment and what goes into your families bodies therefore you care where your food comes from and how it is produced. You appreciate the increased taste and freshness provided by locally grown vegetables and you pat yourself on the back knowing that your dollar spent has gone straight back into your community.




Advantages of buying from a small farm



Buying from a farm that has a direct relationship with their customers has many advantages for both the farm and the customer. As a customer we realize that everyone values things differently because we all have different needs, tastes and preferences. Due to this close relationship with our customers we are more able
to provide a product that you value most, rather than trying to convince you to buy what we might prefer to produce.
We are also more inclined to want to create a lifelong social and economic relationship with those around us rather than to make quick profits. Most importantly we are able to supply a superior product. Due to our close relationships with our customers and because we're doing what we most want to do we're able to supply a fresher, tastier, healthier product.

Please explore our website and feel free to contact us should you have any questions.