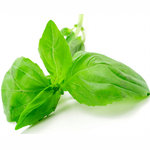 Nutrition:
An array of flavonoids exist in basil, which help to protect cells and chromosomes from damage. Studies have shown that two of these flavonoids in particular, orientin and vicenin, are useful in protecting cell structures and chromosomes from damage by radiation and oxygen.
Taste:
Basil is a highly fragrant plant whose leaves are used as a seasoning herb for many different types of foods.
Uses:
Basil has become one of the most recognizable herbs ever since pesto, the mixture of basil, pine nuts and parmesan cheese, has become popular. Also a common accompaniment to tomato based dishes.
Substitutions:
Basil may be substituted with oregano or thyme.
Storage:
Store in warmest part of refrigerator wrapped in a slightly damp paper towel. Try to use within 7 days.