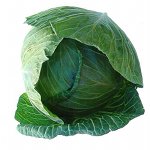 Nutrition:
Cabbage is an excellent source of vitamins K and C: 1 cup (150 grams) of shredded, boiled cabbage contains 91% of the RDA for vitamin K and 50% for vitamin C. Cabbage is also a very good source of dietary fiber, manganese, vitamin B6 and folate, and a good source of thiamin, riboflavin, calcium, potassium, vitamin A, tryptophan, protein and magnesium.
Taste:
Cabbage has a mild earthy flavor with a crisp refreshing bite.
Uses:
Multi-talented, cabbage can be eaten raw in salads and coleslaw or cooked in stews or stir fried.
Substitutions:
Red cabbage for a slightly deeper flavor, other family members such as bok choy, chinese cabbage, celery cabbage...
Storage:
Store the whole head of cabbage in a plastic bag in the refrigerator for up to two weeks.