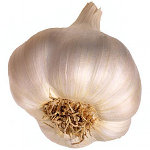 Nutrition:
Known scientifically as Allium sativum, garlic contains more than 100 biologically useful chemicals. The therapeutic roles of garlic have been described in more than 1,000 scientific studies.
Taste:
Garlic has it's own distinctive taste and aroma quite unlike anything else...
Uses:
Typically added to cooked dished to add its taste and aroma.
Substitutions:
Dried garlic or garlic salt.
Storage:
Garlic is usually bought dry and can be stored in a warm, dry place. "Green" garlic should be refrigerated and used within 2-3 weeks.