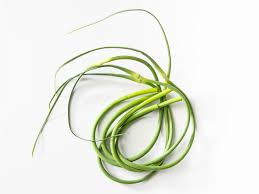 Nutrition:
Garlic scapes are the flower of the garlic plant. They are harvested so that the plant will put energy to make its bulb rather than into the flower. Luckily for us they also supply a strong sweet garlicky flavor that can only be found when the scapes are harvested.
Taste:
Garlic scapes have a strong garlic flavor with a sweetness that generally garlic doesn't have.
Uses:
Typically added to cooked dished to add its taste and aroma. Great in stir fry's and other dishes famous for lots of flavor.



Substitutions:




Garlic.





Storage:




Garlic scapes should be refrigerated and used within 2-3 weeks. Or chopped up and frozen for later use.