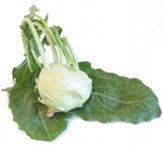 Other names:
German Turnip, Cabbage Turnip
Nutrition:
Kohlrabi is a good source of thiamin, folate, magnesium and phosphorus, and a very good source of dietary fiber, vitamin B6, potassium, copper, manganese and especially vitamin C. One cup of raw kohlrabi contains 140% of the RDA of vitamin C.
Taste:
Tends to be crisp and juicy and somewhat sweet.
Uses:
The main bulb can be peeled and eaten raw for an earthy, apple-like experience. Otherwise can be stewed or roasted with other vegetables. This skin is quite fiberous so is usually removed when preparing.
Substitutions:
Turnips, broccoli stems, celeriac.
Storage:
Fresh kohlrabi can be stored up to one month in the refrigerator.