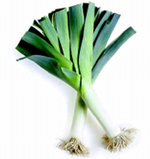 Other names:
Wild leek
Nutrition:
Leeks are a very good source of manganese and a good source of vitamin C, iron, folate, and vitamin B6. They also contain an impressive amount of polyphenols, including the flavonoid kaempferol.
Taste:
With a more delicate and sweeter flavor than onions, leeks add a subtle touch to recipes without overpowering the other flavors that are present.
Uses:
Leaks may be sautéed or added to soups and stews. Finely chopped they can be added to salads also.
Substitutions:
Spring onions, mild onion.
Storage:
Fresh leeks should be stored unwashed and untrimmed in the refrigerator, where they will keep fresh for between one and two weeks.