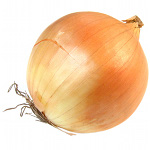 Nutrition:
Onions contain as many as 150 phytochemicals. The flavonoid quercetin, an antioxidant (phytochemical) found in onions, helps eliminate free radicals in the body, inhibits low-density lipoprotein oxidation, protects and regenerates vitamin E, and helps to circumvent the harmful effects of heavy metal ions.
Taste:
Onions have a sharp pungent flavor with a strong aftertaste.
Uses:
Onions are very versatile and can be used raw or cooked in almost any dish. Cooking on too high a heat can make onions taste bitter.
Substitutions:
Spring onions, green onions, leeks, sometimes garlic.
Storage:
Dried (or storage) onions should be kept in a dry, dark place
for may weeks. Green onions need to be stored in the refrigerator and will last over 3 weeks.