Nutrition: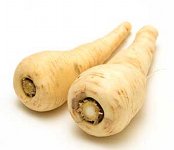 As in carrots and other members of apiaceae family vegetables, parsnip too contains many poly-acetylene anti-oxidants such as falcarinol, falcarindiol, panaxydiol, and methyl-falcarindiol. In addition, it also has healthy levels of minerals like iron, calcium, copper, potassium, manganese and phosphorus. Potassium is an important component of cell and body fluids that helps controlling heart rate and blood pressure by countering effects of sodium.
Taste:
Its fleshy, stout roots appear like that of carrots, but are white or cream in color and sweeter than that of carrots.
Uses:
To prepare, wash them in cold water and scrub or gently peel the skin. Trim off the ends. Cut into cubes, disc, and pieces as you desire and cook as you would carrots.
Substitutions:
Carrots are probably the closest substitute.
Storage:
Store parsnips in a plastic bag and place in the vegetable drawer of the refrigerator.