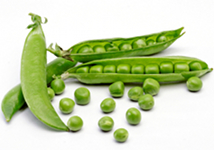 Varieties include:
Snap peas, snow peas, sugar peas, garden peas
Nutrition:
Peas are a good source of Protein, Vitamin A, Niacin, Vitamin B6, Folate, Phosphorus and Copper, and a very good source of Dietary Fiber, Vitamin C, Vitamin K, Thiamin and Manganese.
Taste:
Peas have a taste and texture all of their own. When you bite into one you'll notice the crunch and then get a crisp earthy green taste that will make you grab for more.
Uses:
Peas are great fresh, eaten whole as a side dish or put into salads. They're also typically shelled and frozen to be eaten after they've been boiled. Try them in stir fries and Mac n' cheese also!
Substitutions:
Other green vegetables such as brocolli and beans can be substituted for peas.
Storage:
Fresh peas should be eaten within the week. To store peas can be removed from their shells, boileded for 3 minutes, put in chilled water for 3 minutes and then frozen or stored in air tight jars once excess moisture is removed.