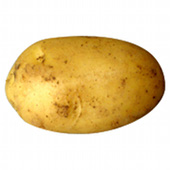 Nutrition:
Low in fat potatoes are rich in several micronutrients, especially vitamin C. The potato is a moderate source of iron, and its high vitamin C content promotes iron absorption. It is a good source of vitamins B1, B3 and B6 and minerals such as potassium, phosphorus and magnesium, and contains folate, pantothenic acid and riboflavin. Potatoes also contain dietary antioxidants, which may play a part in preventing diseases related to ageing, and dietary fibre, which benefits health.
Taste:
They taste earthy in a good way. And creamy.
Uses:
Always eaten cooked there's no more versatile vegetable than the potato.
Substitutions:
Cauliflower, turnips, rutabagas
Storage:
Store potatoes in a paper bag in a cool dry area, away from onions. Do not wash before storing as you will remove the protective coating. Lightly scrub just prior to using and do not eat green parts of potato.