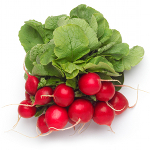 Nutrition:
A close look reveals that it is largely made up of water (more than 90 percent) yet contains as much potassium as bananas and about half the ascorbic acid of oranges. Radishes are also an excellent source of vitamin C and folate and a good source of magnesium.
Taste:
Radishes have an earthy slightly spicy flavor accompanied by varying degrees of heat depending on the type of radish and growing conditions.
Uses:
Eaten raw in salads and sandwiches and often added to soups nad stews to add their flavor and spiciness.
Substitutions:
Other members of the radish family such as diakon. Turnips.
Storage:
Store in the refrigerator with their tops off for 5-7 days.