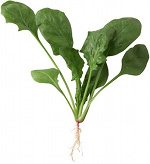 Nutrition:
Spinach is an excellent source of bone-healthy vitamin K, magnesium, manganese, and calcium; heart-healthy folate, potassium, and vitamin B6; energy-producing iron and vitamin B2; and free radical-scavenging vitamin A (through its concentration of beta-carotene) and vitamin C. It is a very good source of digestion-supportive dietary fiber, muscle-building protein, energy-producing phosphorus, and the antioxidants copper, zinc and vitamin E. In addition, it is a good source of anti-inflammatory omega-3 fatty acids, and heart-healthy niacin and selenium...
Taste:
Spinach has a minerally, earthy flavor but is very mild.
Uses:
Eaten raw in salads and sandwiches or best lightly cooked in stir fries, stews and baked goods such as quiches.
Substitutions:
Totsoi, kale, collards
Storage:
Seal spinach leaves in plastic bags and store them in the your refrigerator's crisper. Using this method, the spinach should keep for three to four days.