The Roots of a Community
By Jared Raney, Reporter Star Journal
August 8, 2015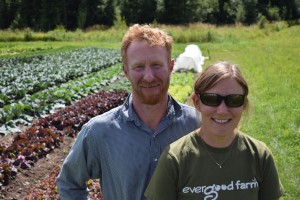 Brendan and Jenny Tuckey, owners and operators of EverGood Farm, one of the only professional organic farms in the Rhinelander area.

Small farms are a rarity in Northern Wisconsin, but a small group of dedicated advocates for organic and small-scale farming are making a push, and a successful push at that.

"We're increasing productivity each year," said Brendan Tuckey, who runs EverGood Farms with his wife Jenny near Sugar Camp. EverGood is a Community Supported Agriculture farm, or CSA, and is 100 percent organic. Spanning a simple but efficient five-acre plot, Jenny and Brendan provide fresh, pure vegetables to Northwoods farmers' markets in addition to CSA customers.

"We chose to be organic for a lot of different reasons," Jenny said. "For us, because we don't want the pesticides and everything coming into our bodies, but we realized that a lot of people also feel the same way that we do."

The CSA business model functions as a membership service—customers pay annual fees to receive a box of fresh produce every week.

"They're like our core. If we didn't have the CSA we wouldn't be able to farm like we do," Jenny said. "We really rely on the support of our CSA customers and appreciate how they come back year after year. We know their families, and they're people we've gotten close to from it, so it's a really cool relationship that we can have with our customers that I think is totally unique to a CSA."

For years there was a vacuum in fresh organic produce in the Northwoods, what's called a 'food desert.' The Tuckeys saw a need for small agriculture and are aiming to help fill that gap.

"Definitely it's challenging, but people so appreciate that they can get something fresh and local up here in such a food desert that we have," Jenny said.

The first professional organic farm in the area, after five years EverGood is selling at four markets, in Eagle River, Minocqua, Rhinelander. As of last week, EverGood started a brand new farmers market, also in Rhinelander, Thursdays at the YMCA.





Northwoods Farmers Markets



Rhinelander – Pioneer Park Sat. 8 a.m – Noon
Rhinelander – YMCA Thurs. 4 p.m. – 7 p.m.

Eagle River – Wednesday 8:30 - 1pm

Minocqua – Park Complex Fri. 8 a.m. – 1 p.m.

"It used to be people just like our stuff mainly for its freshness," Brendan said. "And now it's more people are concerned about how you're growing."

And they aren't the only farm joining this movement. Kind Roots Organic, also in the Sugar Camp area, is run by Cody Bates and Veronica Pickar. They specialize in mushrooms, but are also a committed organic farm, a member of Certified Naturally Grown. CNG is a non-profit certification organization for small-scale organic farms.

"Since we moved up last year and started doing farmers markets we definitely see a big push for the organic scene in Rhinelander," Bates said. "You can see the expansion with stores such as Golden Harvest… Some of the local restaurants, Joe's Pasty shop and stuff, utilizing all local organic foods, so I think the organic scene is on the ground level but it's really building in the Rhinelander area."
Kind Roots also sells their ingredients to local businesses in addition to selling at farmers' markets.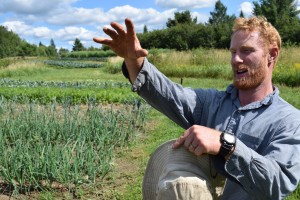 Brendan Tuckey, who is originally from New Zealand,
where he also learned many of his farming practices,
explains their strategies for organic farming.
"It's a better tasting product." Brendan
said as his final word on organics. "If you see
great-looking organic food, it's going to taste better, because we nurture the soil. And this is what a lot of conventional farmers don't have to do… this is one of the major reasons we wanted to grow organic, is because you end up with a better product."

The markets are open until anywhere from late September to middle of October, Rhinelander's market ending October 19th.